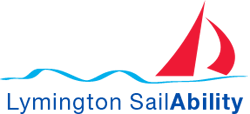 Volunteering
Who is suitable?

Retirees.
Student.
Unemployed.
People on a Duke of Edinburgh scheme.
Professionals.
Sailors/ non-sailors.
Experience of working with disability/ no experience of disability.


What does it involve?

Giving a helping hand:- helping sailors to put sailing gear on, helping sailors to rig their boat, helping sailors into their boats, help using the hoist, helping to launch and recover sailors in their boat, making a cup of post sailing tea or coffee.

Keeping watch out on the water:- to maintain a safe environment a minimum of two safety boats go out on the water each session. A fixing hand:- with 8 boats in our fleet, a launching tractor and various safety equipment; there is always lots of maintenance to do.

Fundraising and administration:- we are always looking for opportunities to raise funds and for people to help us with our fundraising. The administration of the charity is done entirely by volunteers; we welcome with open arms anyone who has time and expertise to give, in helping with running the charity.


What can the charity offer you?

New skills:- working with disability in a sailing environment.

Qualifications:- we offer RYA power boat training, RYA first aid, RYA Sailability disability awareness and have access to many other training courses.

CV:- add to your CV; we operate using the RYA Sailability Volunteer Log Scheme; this is a structured training programme which can be used to enhance your CV.

A sense of worth and satisfaction.

New friendships.

You get to work in a wonderful environment.