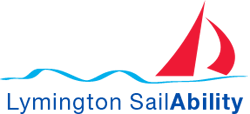 Lymington sailability
Over 20 years of providing sailing and power boating for people with disabilities
Lymington SailAbility is a charity that provides sailing and power boat opportunities for people with disabilities. It provides a safe environment that still allows the sense of freedom and exhilaration that sailing can give.

Whilst we are not a life saving charity, we can be life changing, often giving people trapped by a disability a sense of control and enjoyment they thought they had lost.


Our mission is to make sailing and power boating accessible to all!
Leave us a message!
Gillian Duncan
Posted: 24/08/23
No wind this afternoon so No Windriders going out.
Tasters on Susan Mary and Rib Training will occur.
Thank you, Gillian and Gemma.
View replies(0)
Strudel
Posted: 20/06/23
Just wanna say a huge thanks to Dudley an all for makin us all so welcome.
It was a great taster an gettin ya feet wet , so to speak.
Had a great couple of hours out on the Solent an learned a lot.
Thanks again an see you all Thursday 22nd.
View replies(0)
Chris mcgreal.
Posted: 03/04/23
Hello my name is chris mcgeal.
I am interested in helping out as a volunteer i have experience on the water teaching kyaking and canoeing. I work for autism unlimited and people in this field live independent lives.
I have free time on tuesdays from 9.30am to 3pm and some thursday mornings.
My email is chrismcgreal@hotmail com
View replies(0)
Upcoming Events
To see our full list of upcoming events, please click here
Join us!
If you would like to sign up to our sessions, take part in our private message boards and get more involved with us, please fill out the form below to sign up for an account.

Your account will need to be confirmed by an admin before you can log in, but you will receive an email when your account is ready!
We will never share any of your personal details. Your email will only be used for website login and sharing of important information such as confirmation of payments etc. For our full privacy policy please click here.