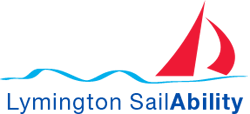 About us

Lymington Sailability is a life changing charity which provides opportunity for people with disabilities to enjoy the sport of sailing and power boating. We provide a safe environment which still allows the thrill and sense of freedom that partaking in a water sport can give.

We have a strong emphasis on inclusivity and equality. Our mission is that sailing and power boating should be accessible to all!

We sail twice a week in the Solent from the beginning of April until the end of October. Our sail boats are very stable trimarans which have been adapted so that they can be sailed by people with a host of disabilities i.e. using arms alone, one arm, legs alone, sensory impaired, mental, learning or emotional impairments. We also have a power boat that is adapted to take people in their wheelchairs out on to the water. We are proud to say that to date there has not been a person that we have not been able to get out on the water!

As a charity we rely heavily on the generosity of others. We have a wonderful group of people who are from all walks of life, both sailors and non sailors who give freely their time and life experience to volunteer on a session basis. They help rig and launch the boats, they provide safety cover out on the Solent; they are the lifeblood of the charity! We always welcome anyone who has spare time to give, whether it's to help make the cups of tea, or be out on the water.

We are totally self funding, relying on the generosity of others. Every penny that is donated to the charity goes in to getting people out on the water. The charity has no administration costs.

Sailing is a very sociable activity, throughout the year as well as our fun fundraising activities we have a social calander where the group, family and friends join together for a pub lunch, a BBQ, a picnic in the park, our annual dinner and many other activities.

Lymington Sailability is a group of people with mixed abilities; we work together as one team, with one goal, to be out having fun on the water!